An Event Like This Happens Only Once In A Lifetime!
"Solar Generator Inventor Celebrates The 100-Year Anniversary Of The Solar Cell By Practically Giving Away His Bestselling PowerSource 1800 Solar Backup Generators!"
Did you know that the solar cell was invented 100 years ago by a man named William Coblentz?

It's true. In fact, he received U.S. Patent 1,077,219 for a solar cell invention to convert sunlight to electricity.

And now, 100 years later, another William (who goes by "Bill" — Bill Heid), has taken this patented technology and invented a completely portable (and ultra-high efficient) solar power generator which produces up to 1800 watts of household electricity on demand when you need it most.

And to celebrate the 100 year anniversary of the solar cell, Bill Heid is going to…
Practically Give Away 100
PowerSource 1800 Solar Generators
And Over $1,500 In Free Bonus Gifts!
I'll tell you the details of this once in a lifetime offer in a minute, but first, let me tell you all about the PowerSource 1800 solar backup generator.

It's the first "plug and play" solar breakthrough in 50 years and news of it is spreading like wildfire all across the country! Why?

The answer is easy. You see, this solar generator is extremely powerful and yet very simple to use. It produces continuous electricity and runs with absolutely no noise whatsoever. It emits no toxic fumes. But the best part is you can...
Generate Free Electricity From The Sun!
Charged by the sun with a powerful solar panel, the unit then stores the power for your use when you need it. We all face natural (and man-made) disasters that create temporary and sometimes permanent power outages to millions of Americans every year. That's why it's crucial to…
Have A Solar Powered Backup In Place!
When you compare a solar generator to a gas generator, the difference is pretty remarkable. First, gas generators make an incredible amount of racket… and… are often very hard to start. Second, another reason to avoid gas generators is that you just can't safely run one in your house because of the dangerous fumes.
But the #1 reason you don't want to be caught in a time of crisis with a gas generator is…
Gas Stations Can't Pump Gas Without Electricity!
It's true. When the power goes out, you're left with whatever gas you have on hand because the gas station pumps all run on electricity.

I could go on and on about life without electricity and what a nightmare gas generators can be. But here's the bottom line: Solutions From Science is now offering an amazing power generating system that can provide plenty of electrical power in the event of an outage or emergency. And the best part is that you can have the power safely in your house.
A True Breakthrough
In Home Power Generation!
Let me try to explain the features and benefits of a solar generator as simply as possible:

#1. Maximum Power In Minimum Time
The solar generator can be set up in just a few minutes. Then, all you have to do is start plugging things in. It can run both AC & DC appliances anywhere… anytime!

#2. Backup Power When You Need It Most
It's called a "solar backup" because it's designed to come to your rescue when power trouble starts and your lights go out. Run a small refrigerator (high-efficient ones are best) to keep your food (or medicine) from going bad.

#3. Portable Power
If the going ever gets too tough where you are and you decide to "get out of dodge," you simply throw it in the car and take off to a safer destination.

#4. Generates Permanent Power
The unit provides 1800 watts of electricity at peak power. That's enough to run many appliances in your house. The generator is recharged constantly by the sun, allowing you to use the system while charging it at the same time. Many users choose to keep appliances plugged in permanently to reduce electrical costs and help pay for the unit.

#5. Multiple Uses
You can use your solar backup to run essential appliances when emergencies arise. You can recharge phones or run shortwave radios, televisions, lights, fireplace or furnace fans, as well as computers and printers.

#6. Plug And Play Means Instant Power
The emergency backup system comes ready to go. It's truly "plug and play." Just start plugging in your "must have" household essentials.

The retail price of the PowerSource 1800 is $2,197.00 plus shipping and handling.

But, in honor of the 100 anniversary of the "solar cell" Solutions From Science is practically giving solar generators away just to get the word out about plug and play solar.

Here's the deal: Using your coupon code, you can get…
Get A Discount!
That means you'll only pay $1797 plus shipping and handling. But that's not all! If you order one of these 100 discounted units… you'll also get...
4 Free Bonuses Valued At $1,550!
Free Bonus #1: Upgrade to 100 watt panel
Also, in honor of the one-hundreth anniversary of the solar cell, we are upgrading the panel included with your unit from a 90-watt panel to a 100-watt panel. The 100-watt quick-charge solar panel supplies electricity to the 1800-watt backup power unit so you can keep your lights and appliances running even when the electricity goes out.
Valued at $200!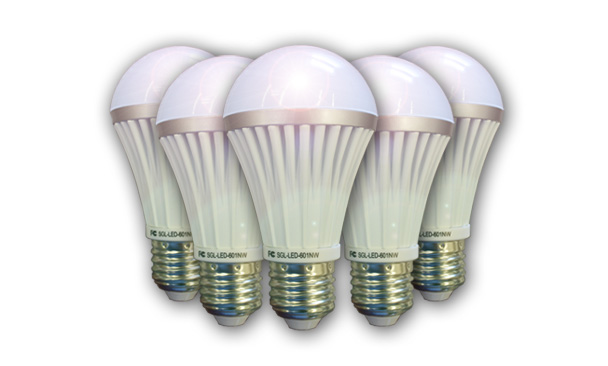 Free Bonus #2: The Energy Saver LED Light Bulb Package
The Energy Saver Package includes five (5) LED light bulbs that cast the same amount of light as 60-watt incandescent bulbs, but use only one-tenth of the energy. In fact, if you power these bulbs with your PowerSource 1800, you can light your house for a week... even if the sun never came out! Plus, each LED bulb lasts up to 40 years! A $150.00 value.

Free Bonus #3: A Free Membership In The Heirloom Seeds 1K Club
Normally, people pay $1,000 to join this club to receive $100 worth of the finest heirloom seeds available per year for 10 years. Why, because the fiercely independent farmers only produce limited amounts of seeds each year and once they're gone, they're gone. And 1K Club members get first pickin's.

But, if you order right away (before all one hundred PowerSource 1800 Generators are gone) your membership and your seeds are free! Valued at $1,000!

Free Bonus #4: Survival Seed Bank™

The Survival Seed Bank™ has a total of 22 varieties of OPEN POLLINATED "super seeds." Also included are detailed growing instructions for each variety which includes helpful information on harvesting of seed stock for the following year in a survival situation. Each Survival Seed Bank™ contains enough seeds to plant a full acre crisis garden. If you were to purchase these seeds separately, you'd pay over $300.
The absolute fastest way to get the PowerSource 1800 and get your $2,750 in discounts and bonuses is by clicking the buy now below.
If you would like to order by phone, call toll-free 877-327-0365. Give whoever answers your coupon code and tell them that you want the "Solar Backup Generator" system and your free bonuses rushed to you.

Or, you can pay by check or money order (payable to Solutions From Science), by sending $1,957 ($1797 + $160 S&H) to:
Solutions From Science
Attn: 100 Years Of Solar
2200 IL Route 84
P.O. Box 518
Thomson, IL 61285
I'm so convinced every American household needs a Solar Generator that I've arranged for this special deal to get one to you at this dirt cheap price.

But you must hurry, call!
Sincerely,
Mike Walters
P.S. Make sure you use your coupon code to get the discount and $1,550 in free bonuses.
P.P.S. Special "BillMeLater" (no-interest for six months) terms are available with your good credit if you order online. This gives you six months (sometimes longer!) to pay on your generator.
Buy Yours Today!
›› CLICK BUY NOW TO ORDER YOUR SOLAR GENERATOR ‹‹
PowerSource 1800
$1797 + $160 S&H
Order Online By Safe Secure Server